Forging a Path Of Success
---
Working with metal is an art as old as civilization itself. It's a trade with thousands of years of history behind it. The idea of it conjures up images of a glowing forge, of anvil and hammer and grueling work.
Today's tools are a little more advanced, but the work is still demanding, requiring skill, dedication, precision and a passion for getting it right. For Ronald Vargas, President and co-owner of Capitol Iron Works, those are just more reasons he loves his work.
"I like doing this type of work," Ronald says. "I love what I do, working with metals of all kinds. Even though most of what I do day to day now is management, I know everything it takes to do this kind of work and still do it myself whenever I can."
Based in Rockville, Maryland, Capitol Iron Works specializes in custom ornamental metalwork projects based on unique design ideas, working with ferrous and nonferrous metals, such as stainless steel, aluminum and bronze. The company also works with structural steel and glass. Some of the most common projects include fabrication and installation of architectural railings, stairs, handrails, glass and cable railings, steel fencing, balconies, canopies and automatic gates.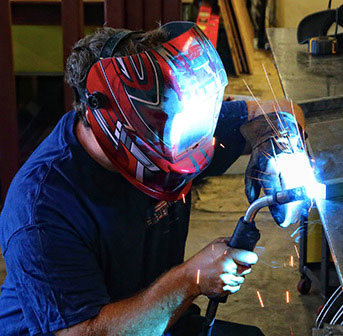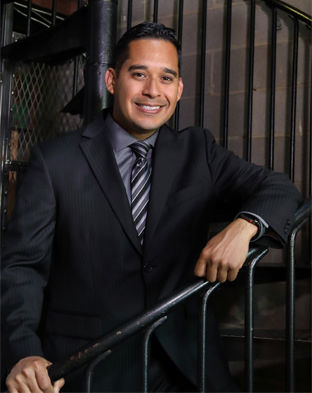 Young And Strong
---
Capitol Iron Works is a young company—Ronald started it in August 2014—but it has grown quickly under his leadership.
"In 2014, with only a few months in business, we did about $30,000," Ronald says. "We did 10 times that in 2015. We've kept growing and are projecting $1.5 million in business for 2018. We're still just in the beginning. This is only our fourth year; we're a relatively new company," he says. "We can handle ferrous metals, nonferrous, intricate ornamental work or architectural metals, and we're always hungry to take on new challenges. Some of our projects are as low as $1,000. We can handle projects as large as $500,000 now, but we're still expanding and will be able to take on even larger jobs soon."
It's unusual for a young company to see so much success so quickly, and there is no lack of competition in the industry in the area around Washington, D.C.. But Ronald has no doubts about the reasons for Capitol Iron Works's prosperity.
"It comes down to the importance that I put into customer service and communication with our customers," Ronald says. "That's why I work together with my team to always be on schedule to meet deadlines and make sure our customers are 100 percent satisfied with our work. The quality of the work we do speaks for itself. We always try to do our best, no matter the size of the project. People are happy with us and our work. We know how to do what we do."
Learning The Craft
---
Ronald didn't set out to make his living in metalworking; it is a career he fell into by circumstance. He immigrated to the United States from Nicaragua by himself at the age of 21, searching for the American Dream. He knew the first step was finding a career.
"When I came to this country in 2004, I was just looking for a job in one of the trades," Ronald says. "I tried several things I didn't like—like pouring concrete—until I found a job in welding at a place called Bethesda Iron Works.
"I started out working as a welder's helper; most of what I did was grinding and things like that. I learned on the job, became a mechanic and got my welding certification. Eventually, I decided it was time to make a difference and go into business for myself. I started Capitol Iron Solutions in August 2014.
"At first, I was doing almost everything," he explains. "I was doing the fabrication, the installation, answering the phone. It was a fun process and gave me the chance to learn many things about how to run a business."
Capitol Iron Works is still operating in its initial location, though it has grown from a 1,100-square-foot building with a single fabrication unit to a 4,300-square-foot facility with three separate fabrication units. Meanwhile, the staff has grown from Ronald to an employee base of 14.
"The people who work for us are another reason for our success," Ronald says. "We're very lucky—our people are loyal and happy. When people come to work for us, they don't leave. In four years, only one employee has left, and that was because he wanted to work for himself. We still work with him as a subcontractor."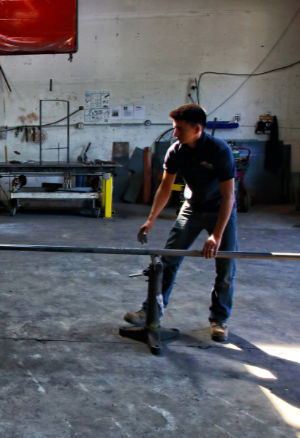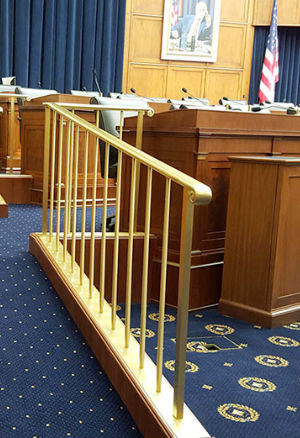 Capital Work
---
Initially, Capitol Iron Works focused entirely on residential work, but as the company grew, it added commercial services to its offerings. The commercial side quickly overtook the residential, and Ronald and his team are trying to build residential back up again.
Most of Capitol Iron Works' work takes place within a 50-mile radius of its home base in Maryland, though Ronald has sent crews as far away as Kentucky for the right opportunity. Still, there's no shortage of work to be had in the Washington, D.C., area, which is where Capital Iron Solutions' largest clients are located.
"We've done a lot of nice work for an agency called Architect of the Capitol," Ronald says. The Architect of the Capitol (AOC) is the federal agency responsible for the maintenance, operation, development and preservation of the United States Capitol Complex. The head of AOC is also referred to as the Architect of the Capitol, a position currently held by Stephen T. Ayers.
"AOC takes care of the maintenance of all the major government buildings, and every time they need something done with nonferrous metals, they call us," Ronald explains. "They're a large agency, and they've been very happy with our work. We recently did the fabrication and installation of bronze railings for a project in the Rayburn House Office Building, which is more than 2 million square feet and contains offices for 169 members of the House of Representatives."
Ronald is justifiably proud of the business he's built, now entering its fifth year of rapid growth. There are two things to which he gives most of the credit for Capitol Iron Works' great success. "We have the right people, talented people, who know how to do a lot of things in this trade," Ronald says. "We're very lucky and I'm very proud of the team we've put together. We put our people first. They're everything. Without our people, we're not a business; we're not anything.
"Second, we can do basically everything in this trade. We don't avoid jobs because they're hard," he says. "We don't mind the easy work, but we also love doing the hard work, the beautiful work. That's the area we want to focus on. We're not afraid of taking on new challenges. We work with professional people. Whatever needs to be done, we get it done."
We're Dedicated to Customer Satisfaction
Serving Maryland To Include Bethesda, Rockville, Potomac, Fairfax And Virginia Areas
---
Capitol Iron Works Is Your Best Choice For All Of Your Welding Needs
With the commitment of providing the highest quality service in terms of welding works, Capitol Iron Works, prides itself on its integrity and honesty in providing the best local welding services in Maryland to include Bethesda, Rockville, Potomac, Fairfax, Virginia and in many areas in Washington DC.
From fabrication and installation of steel works (e.g. handrails, iron railings, cable railings, gates, steel fence etc.) we, at Capitol Iron Works, guarantee a satisfactory result that may live up or even exceed customer's expectations.
We employ a wide variety of welding methods and use high grade materials like quality steels, metals, aluminum, wrought iron and other alloys. Our highly-skilled and well experienced welders meticulously fabricate and install wrought iron railings, cable railings, steel fences, handrails and the likes to ensure excellent project and safety of work.
Some of our flagship services are iron railings, stairs, steel fence, cable railings, gates, wrought iron works, window guards, metal fabricator, aluminum welder, balconies, canopies, light structural steel and stainless steel railings to name a few. We also customize projects to suit your taste and preferences and provide cost-efficient prices to ensure your money's worth.
Our years of experience in the industry and good testimonials from our clients are evidences of our reputation as one of the leading local welding companies in Washington DC.
With services around Maryland area to include Bethesda, Rockville, Potomac, Fairfax and Virginia, we guarantee you that you are in good hands with Capitol Iron Works
---
Call us today for a consultation!